Apex Aluminum Die Casting Co., Inc.
8877 Sherry Dr • Piqua, OH 45356
United States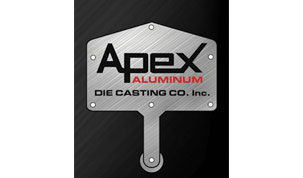 Apex Aluminum Die Casting Company was founded in 1980 and has remained a family owned and operated business. Apex serves a wide variety of industries across the United States.
Our 100,000 square foot facility is located in the heart of the Midwest, just twenty minutes north of Dayton, Ohio on I-75. We offer a fully equipped modern tooling facility to design, build and maintain our customers tooling to enable minimum downtime and affordable tooling. Our casting capability ranges from 1 ounce to 18 pound castings with capacity from 100 parts per year to 100,000 parts per week. Please contact us for additional information or to arrange a plant tour.