French Oil Mill Machinery Co.
1035 W Greene St • Piqua, OH 45356
United States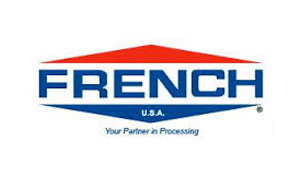 French® is an ISO-certified, 4th generation family-owned U. S. company that custom designs, manufactures and supports hydraulic press systems for molding rubber and composite materials, oil screw presses for synthetic rubber processing and for the separation of liquids from solids, and oilseed equipment used to extract vegetable oil from seeds and nuts, and to produce biofuels. For over 115 years we have partnered with our stakeholders, in over 80 countries worldwide, to provide products with superior value and superior service that improve our customers' productivity and reduce their overall production costs. Our 225,000 square foot corporate office and manufacturing facility are located in Piqua, Ohio.
French owns the brand TMP, A Division of French, which supplies hydraulic presses to the composite, lamination and rubber industries in addition to their technically advanced composite, plastic and rubber mixing systems. French is also the parent company to FOM (Shanghai) Company, Ltd., a wholly foreign-owned enterprise in Shanghai, China, serving the domestic Chinese oilseed and polymer processing markets.
French Oil Mill Machinery Co. Information